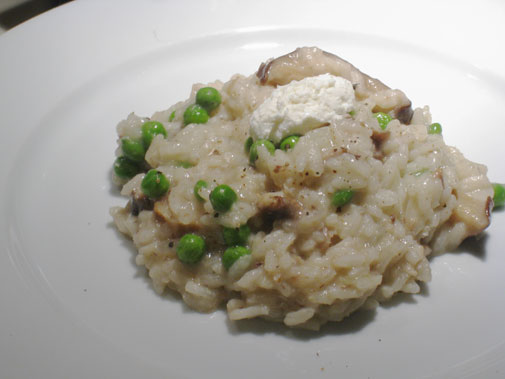 I am here to continue to help you pick the perfect dish to cook on Valentine's Day. Pasta, seared salmon, baked pork chop…they are all fantastic, but they are overplayed in my opinion. This year is the year of risotto; it's a simple and straight forward dish, but constantly needs your attention (sounds like your mate? please don't say that to her, or you will end up on the street). Grab yourself a heavy skillet and spatula, let's get cooking!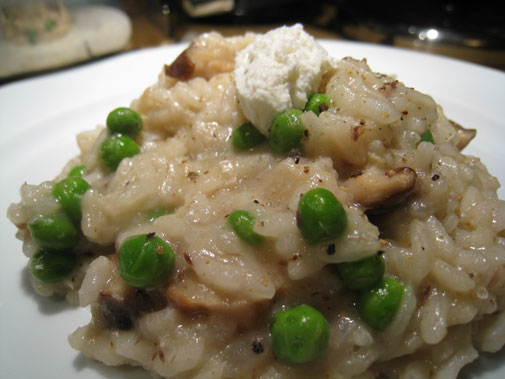 Ingredients:
1 medium onions, finely chopped, and they do have to be fine.
1 cup arborio rice
6 cups chicken stock or broth, homemade preferably
1/2 cup dry Italian white wine
1 handful shiitake mushrooms, pre-soaked until soft and then thinly sliced
1 cup frozen green peas
1 can of sardines, crumbled with your hands
2 cloves of garlic, minced
salt and pepper
1 lemon's zest
1/4 teaspoon grated nutmeg
1 oz. grated Parmesan or Pecorino cheese, more if she likes the cheese
1 tablespoon butter
1 teaspoon of goat cheese, optional
Instructions:
Lightly cook chopped onions (don't forget to add salt) until softened and add garlic, and then cook for another minute before introducing arborio rice into the skillet.
Stir in the rice with onions and garlic and cook until the edge of rice becomes translucent. Start adding chicken stock or broth 1 to 2 cups at a time until the liquid just covers the rice. Leave the heat on medium-low.
Stir the rice every 2 minutes for 30 seconds until the grains absorb most of the liquid and you can see the bottom of the skillet. Add more liquid at this point and repeat this step for 30 to 40 minutes. Once you see the rice gets bigger and stickier, start stirring more frequently - an important step to create creamy consistency. Add more salt to taste.
Taste your rice for the right consistency; it should be creamy and chewy. Once the consistency is right, add peas, mushrooms, and sardines. Keep stirring, never stop stirring when making a risotto dish. Once the vegetables and fish are combined, stir in the grated Parmesan cheese and fold the cheese into the rice gently.
Turn off the heat and grate some lemon zest and nutmeg to enhance the flavors. Serve immediately and add goat cheese if you like. Goat cheese will add another dimension to the dish…I can't quite describe the flavor, but it's darn good - I promise.
Making fantastic risotto for your mate is genius. She will be impressed by your attentiveness and translate that to your other skills.
I also have few suggestions on wine pairing. A bottle of dry Italian white wine, such as Pinot Grigio, pairs really well with risotto. If you are feeling a little extravagant, a bottle of aged Barolo (aged for 8 to 10 years), a dry Italian red wine, could lift the meal drastically.
Good luck!