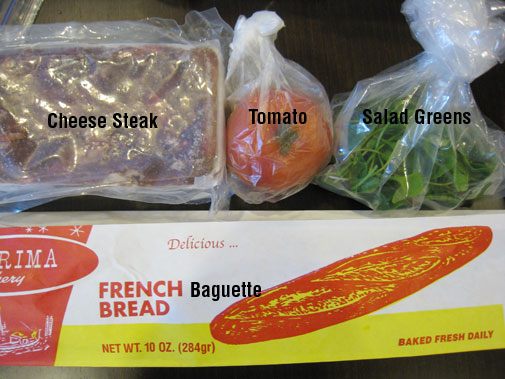 Since moving back to New Jersey last summer, visiting New York City's Greenmarket has been a rare event. However, I'd like to continue my effort of eating locally and sharing my culinary adventure. I took advantage of an excellent weather yesterday and biked down to Union Sqaure Greenmarket (14st. street between Broadway and Park Ave.) to check out new produce and other wonderful ingredients. I saw many familiar faces and I wasn't hesitant to splurge on this week's groceries.
Guinea Pig's Shopping Bag:
Produce:
1 tomatoe (size of a softball): $3.00
1 handful of salad greens (less than 1/4 pound): $2.60
3 apples (not in the picture): $1.00
Meat:
1 lb. sliced beef, for cheese steak: 11.00
Bread:
1 loaf of French baguette: $3.00
Total Spending: $20.60
p.s: I got a little rusty on taking pictures of my grocery. I promise to have better pictures next time.