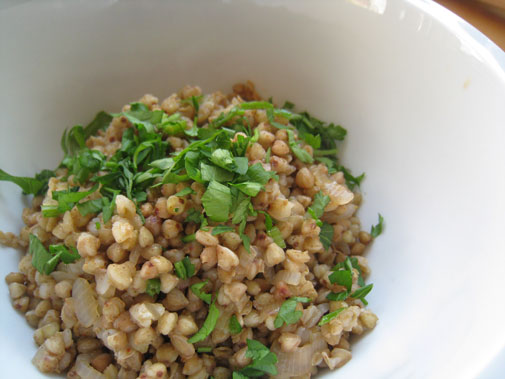 One of my favorite cheap eats - buckwheat groats.
I don't have a keen perception on the economy, besides the fact that it's not doing so well. However, while many sit-down restaurants have gone bankrupt, fast-food restaurants, on the other hand, have been cashing in. Although more people choose to stay home and eat, they choose to bringing home "Whoppers" or "Big Macs" more frequently than cooking comfort and healthy food.
I am a firm believer that anybody could cook with fresh ingredients, even with a thin budget, and not sacrifice his or her health drastically. Few friends and I had lived through February with only 100-dollar budgeted for food and drinks. I did have a well-stocked pantry to begin the challenge. However, many of my ingredients were dollar-worth and can be made into multiple meals (3 to 4 usually). There were few steady items in my pantry: beans, rice, pasta, and whole grains (pearl or regular barley and buckwheat groats). I also had a lot of frozen zucchini and squash from last summer (it's always good to freeze vegetables for later use). Eating seasonal ingredients, such as potatoes, carrots, and onions, also helped me to get through February.
Have you had the perfect homemade chicken noodle soup? Have you had the perfect apple pie baked by your grandmother? Great food is not made with expensive ingredients; it is made with attentiveness and gratitude. When ingredients are honored and cooked with passion, anything is delicious, even just a bowl of vegetable soup seasoned with salt and pepper (I could't count how many times had I had potato or cabbage soup with a slice of toasted bread in February).
No one will ever be able to get rid of fast food from the face of our planet. We, however, can change the way we eat and show our support for home-cooked meals. After watching my friends, Peter, Melanie, and Sei-Wook ate and drank with only 100 dollars in February, I am convinced that every one of us can eat and cook with whole foods during hardship.