Need a quick meal within 20 minutes? No problem.
I grew up eating a lot of chow mein. My nanny used to make or buy chow mein for me almost everyday because of its convenience and health benefit. A plate of hearty chow mein does not take longer than 20 minutes to make (including prep time), and it is cooked with healthy ingredients, such as bok choy, napa cabbage, Taiwanese cabbage, lean proteins, tofu, and etc.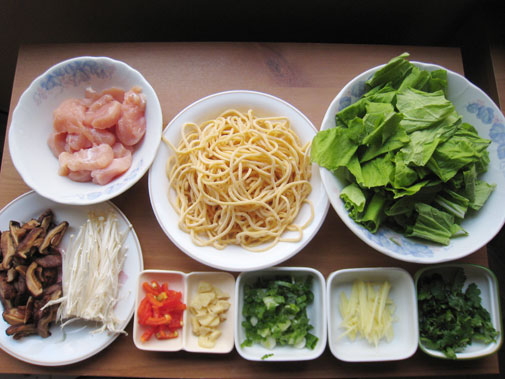 Guinea Pig's Chicken Chow Mein
3 cloves of garlic
2~3 inches long of ginger
1 hot pepper, chopped finely
1 stalk of scallion
3 stalks of Taiwanese cabbage
1 cup of chopped shiitake dried mushroom
1 handful of enoki mushroom
1 medium size, about 3~5 oz. of boneless chicken breast
two handfuls of egg noodles (1 for next day's lunch)
2 pinches of kosher salt
2 tablespoons of low sodium soy sauce*
few squirts of Sriracha hot sauce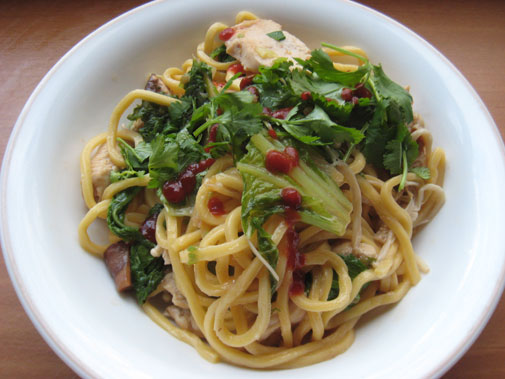 Instructions:
Slice garlic, ginger, scallion, cabbage, and soaked dried mushrooms. Next, boil a pot of water for cooking the egg noodles. While the noodles are being cooked (no more than 2 to 3 minutes), turn on the heat for the wok and wait until it is blazingly hot before adding the Ingredients. Once the wok (or you can use a frying pan) is heated, pour 5 tablespoons of vegetable oil and add the chicken. Start cooking egg noodles in the boiling water as well.
The chicken will be cooked very fast because of the heat, so add the rest of the ingredients into the wok when the chicken is almost done. Stir fry the ingredients for few more minutes and add the cooked noodles. Pour a little bit of water into the wok to prevent food from sticking.
To make the chow mein look silky and smooth, add a tablespoon of corn starch (potato and corn flour are also useful) into the wok and cook until everything looks creamy. Serve immediately.
Chow main is convenient and nutritious, and it is definitely one of my favorite "good eats" when time is not on my side.
*I like using low sodium soy sauce because it helps me season the dish more slowly and carefully.