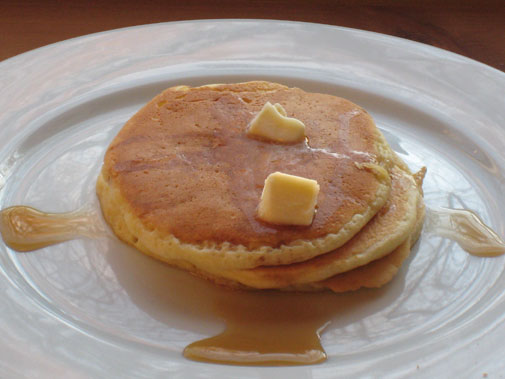 Baking powder or baking soda has been the main leavening agent when making pancakes. However, when using baking soda, buttermilk, which is acidic, must be added to balance baking soda's basicity.
I rarely keep buttermilk in my fridge. In order to have pancakes that are fluffy without the need of baking soda (still need baking powder), I have added beaten egg whites, also known as "stiff peaks", into my pancake batter for the extra fluffiness and moisture. The result has been incredible; the pancakes are steamy and soft as usual.
Super Fluffy Pancakes
1 cup of all purpose flour
1 tablespoon sugar
1/2 teaspoon kosher salt
1 teaspoon baking powder
1 cup whole milk
1 teaspoon vanilla extract
1 egg
2 egg whites, beaten until "stiff peaks" form (using a hand mixer makes the job very easy)
Instructions:
Mix flour, sugar, salt, and baking power in a large bowl, then whisk the dry ingredients thoroughly.
Beat the egg and pour milk into it, then pour the mixture into the dry ingredients. Stir the mixture gently to form a batter.
Use a hand mixer to beat the egg whites, then gently fold the foamy egg whites into the batter and stir until egg whites are combined.
Heat the griddle with medium heat for few minutes. Lightly brush the cooking surface with butter and scoop the batter onto the griddle slowly.
Cook each pancake 2 to3 minutes on the first side, then flip it over and cook for another 1 to 2 minutes, until steam comes out of the pancake.
Drop few knobs of butter in the center of pancakes and drizzle them with good quality maple syrup. Serve immediately.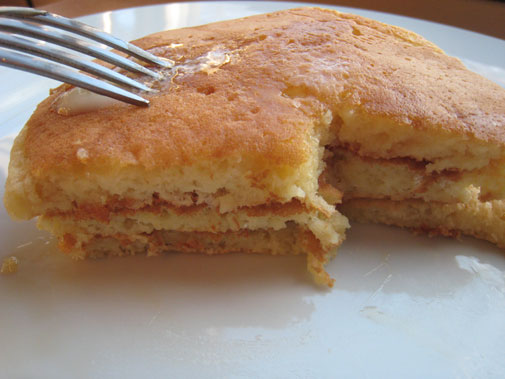 Do you have any great tips for cooking fluffy pancakes?