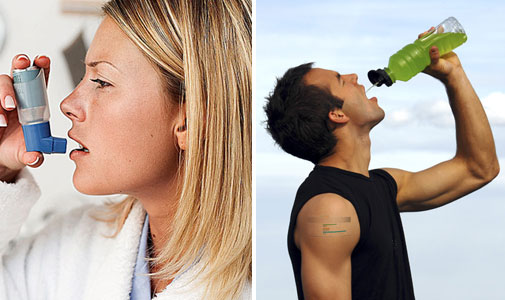 EIB, exercise-induced brochospasm (exercise-induced asthma), is common to many of us, even to the best athletes in the world. The symptoms are coughing, shortness of breath, chest pain or tightness, and wheezing. Exercise scientists have speculated that EIB results from loss of heat, water, or both from the lungs during exercise.
When EIB occurs to you during exercise, you'd need to reduce the intensity but not stop exercising immediately (the benefit of warm-down and readjust your body back to equilibrium). Also, since losing water could be the main cause of EIB, you'd need to hydrate yourself right away and remove yourself from any environmental allergens or irritants, such as cold or polluted air, that could contribute to the discomfort.
The best way to prevent EIB from occurring is to visit your primary physician and get a prescription for short-acting bronchodilator. Using bronchodilator before exercising will help the airway stay open. In addition, you can engage in a long term control therapy that can decrease the frequency and severity of EIB when it happens.