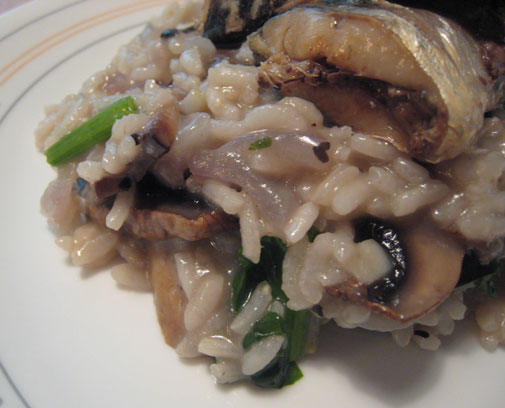 Risotto with spinach, wild mushrooms, and sardine.
Risotto is a popular Italian dish. Restaurants take pride in making the perfect risotto. Women get mesmerized when men serve this hearty dish along a bottle of great Italian wine. So what's the fuzz? I decided to guinea-pig the recipe from Alton Brown's Good Eats (don't forget to watch the second episode).
Cooking risotto requires time and patience; you need to stir the rice often and cook it under simmer, which can take up to 40 minutes. I gave myself an hour this evening to make the risotto with spinach and wild mushrooms.
My risotto came out great. A nice risotto dish is creamy from the long cooking time and grated Parmesan cheese stirred in at the end. Risotto is also chewy that makes it enjoyable in every bite. With more fresh produce coming out in the summer, I look forward to add other ingredients to my next risotto attempt.