Every Wednesday, The Sweaty Guinea Pig will feature a fresh individual who will share his or her thoughts and experiences on fitness and healthy living.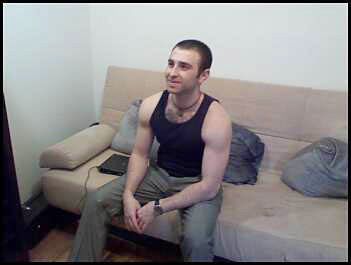 Name: Boris Khaykin
Age: 23
Location: New York, NY
Occupation: Advertising Sales by day, Comedian/Musician by Night
What is your current routine? How many days do you dedicate to exercising every week?
I try to workout during my lunch break at least 3 days a week. I focus on back, legs, and chest. I do shoulders, biceps, and triceps less frequently. I also work my core every other day except on the weekend. Besides lifting weight, I run on treadmill and do elliptical at least 3 times a week. In addition, I go snowboarding in the winter and keep my workout interesting by playing other recreational sports.
How did you come up with your current routine?
I've experimented with workout programs from Arnold's Guide to Bodybuilding and other fitness books. However, I hardly find any program that suits me. Nothing is going to be perfect, you just have to experiment and take in as much information as possible.
What are your short term (within 6 weeks) and long term (3 months and beyond) goals?
Short term, I'd like to get to 7.5% body fat. I'm at about 8.5% right now and could tell a bit less fat will make me look more toned. Beyond that, I'm mostly concerned with maintaining lean muscles and staying healthy. I'm not interested in being much more built than I am now.
What are other types of training that you'd like to try?
I want to run more and try a half marathon after proper training. I also plan on swimming more this summer. Swimming is a great workout. I find swimming in the ocean more enjoyable than in a pool. I look forward to the beach weather!
What is your favorite post-workout meal?
My favorite meal is probably a whole lot of sushi. I like to get Chirashi on brown rice (assortment of raw fish). Fish has healthy fats and contains a lot of protein; I could eat a lot of sushi without feeling too full.
What is your ideal "cheat" meal or favorite guilty indulgence?
I eat a lot of omelets with just about anything in them. I'd fry pasta, pieces of chicken, vegetables, 3 or 4 whole eggs, and top the eggs with cheddar and mozzarella. Also, I love my grandmother's apple pie. I set no limits; I will finish a whole pie and wash it down with tea, no joke!
Any advice or words of encouragement for other Sweaty Guinea Pig readers?
Don't assume what works for one person will work for you, vice versa. Everyone is different. The key is to challenge yourself consistently and stay active. Find an activity you truly take pleasure in if you don't enjoy going to the gym. Start cooking for yourself too; make cooking fun and don't treat it as a chore. Eat everything in moderation and don't waste food. For instance, eating a whole egg is healthy. Egg yolk has a great amount of good cholesterol and contains most of the protein of an egg, so don't throw the yolk out!