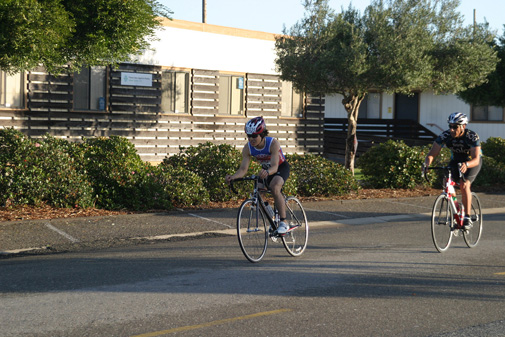 Before a triathlon race:
Book your hotel and flight earlier for lower price, if you are competing far away from your home.
Tune up your bike one or two weeks before the race, include checking tire pressure, tightening the screws and bolts, and lubricating the gears.
Make up a week of short but efficient workouts to keep yourself "in tune" for the race.
Get proper sleep everyday and don't change your routine, such as work schedule, to prevent any stress.
Pack up all the necessity for the race. I recommend going down the equipment list from swimming to biking, then to running like the order of the race.
Study the course by going on to the race website or visiting the race site if possible.
Go grocery shopping for few times and stock up healthy snacks, such as nuts and fruits. Make your own granola bars if time allows you.
Make up an itinerary, starting from the day before you leave for the race to the end of trip.
Call your airline, hotel, and other reservations to confirm your arrival.
Go down and check off your packing list before stepping out. And don't forget to hug and kiss your significant others, relatives, or friends because going away for competition can make athletes nostalgic. (Guinea Pig does get emotional when he hits the road.)
On that note, I am off to Bassman Spring Triathlon.