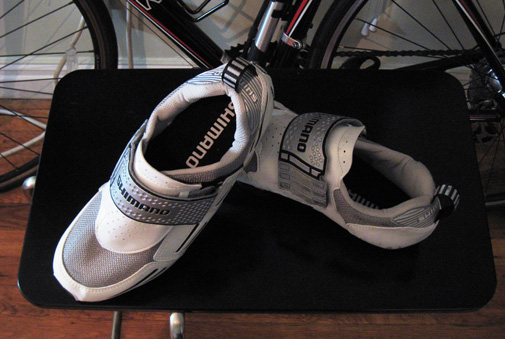 With triathlon only two weeks, I have taken on my final preparation - riding my bike with biking shoes. These biking shoes help me bike more efficiently with hamstrings, and save energy for my quadriceps for running at the end.
First time biking with the shoes, I fell five times in a distance of just five blocks. When wearing a pair of biking shoes, feet are clipped onto the bike and basically tied up (think of snowboarding if you've ever had the experience); therefore, to get off the bike, one will need to twist his ankle outward. For a new learner like myself, I was not used to getting off the bike by doing the extra work.
Besides my clumsiness when riding with the shoes for the first time, this pair of Shimano biking shoes feel comfortable on my feet, and they are only $99.99. Shimano biking shoes are durable and comfortable. I highly recommend getting them if you are becoming a frequent rider.