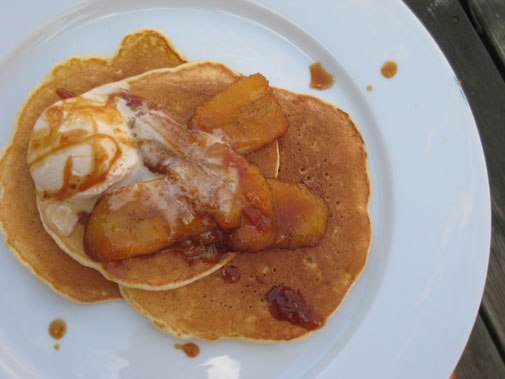 Pancakes are great for dessert; they are fluffy and moist, and have a hint of vanilla (if you have added vanilla extract into pancake batter). I chose to make "Banana Caramel Pancakes with Ice Cream" by using leftover pancakes from breakfast.
When working with caramel, be careful. Caramel boils at higher temperature than water.
Ingredients:
3 pancakes
1/2 banana, thinly sliced into oval shape
2 tablespoons butter
1/3 cup sugar
1/4 cup rum (optional)
1/4 cup water
1 scoop of ice cream, more if desired
Instructions:
Set heat on high, pour sugar into a skillet and let the sugar melt. Do not stir.
Once the sugar turns clear and sticky, put butter into the pan and swirl it carefully in order to melt the butter (or you can stir the mixture gently with a wooden spoon). The syrup will begin to bubble.
Once butter is completely melted , add the banana slices. Don't crowd the pan.
Let the banana cook for 1 to 2 minutes, keep swirling the pan or use a spoon to glaze the banana. (Optional step: once the banana slices turn darker, pour rum into the pan and let the alcohol cook out. Be careful, the pan can catch on fire because of the rum. But don't panic, the alcohol will evaporate and fire will cease momentarily.)
After caramel thickens more and the bananas are cooked until brown, add water into the pan to thin out the caramel. Scoop out the bananas with a spoon and place them on pancakes. Top the bananas and pancakes with a scoop of ice cream. Drizzle the dessert with more caramel and serve immediately.
What would you do with your leftover pancakes?