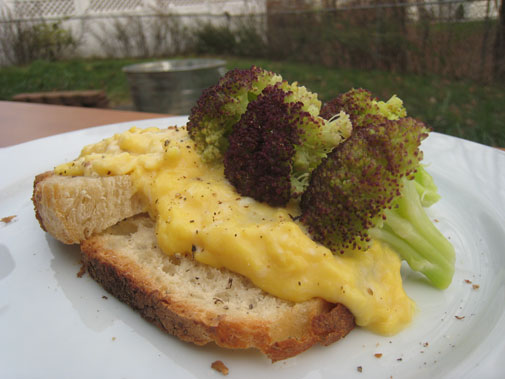 Of all the ways that eggs can be cooked, sunny-side up, scrambled, over-easy, over-hard, and etc, I like making scrambled eggs the most.
Making the perfect scrambled eggs needs the cook's undivided attention; if the eggs are left on the heat for as little as 10 seconds more, they can be overcooked. Also…always season the eggs toward the end of cooking. Putting salt on uncooked eggs will break down the fats, and your scrambled eggs will not be creamy and soft. Sounds a little too complicated for making this fantastic breakfast food? Don't worry, Sweaty Guinea Pig, after many failed attempts, has gained some experiences and is here to help you make the best scrambled eggs.
Ingredients:
2~3 eggs, cooking 1 scrambled egg is not worth of your time
1/2 ~ 1 tablespoon of softened butter
1 pinch of salt for the END
1 teaspoon of creme fraiche or sour cream
Instruction:
Heat a medium sauce pan on medium heat for 10 to 15 seconds, then take it off the heat.
Crack eggs into the pan and put the butter in as well.
Put the pan back on the stove and start stirring eggs and butter with a spatula, like how you'd cook your risotto.
When you see a little bit of coagulation in the pan, take it off the heat and keep stirring rhythmically.
After 10 to 15 seconds, put the pan back on the heat and stir.
Repeat the 4th and 5th steps repeatedly until you see big and creamy chunks of eggs form, then turn off the stove.
Season the eggs with 1 pinch of salt and pepper and stir the eggs for 15 seconds more until they are completely in creamy chunks. Make sure the pan is off the stove.
Scoop a teaspoon of creme fraiche or sour cream onto the eggs and stir it in. The cream will cool down the eggs and make them richer and creamier…tastier overall. (If you choose not to add cream, scoop out the scrambled eggs immediately; otherwise they will be overcooked by residual heat.)
Serve the fantastic scrambled eggs on your favorite breakfast bread or cake!