Winter squashes (a generic term for all types of squash sold in the market) are everywhere, and they are cheap and delicious. I will be experimenting with a squash recipe every week this fall (possibly in the winter too), and I'd like to share my experiences with you. I hope you will enjoy reading my culinary adventure as well as learning new recipes to cook for your friends and family.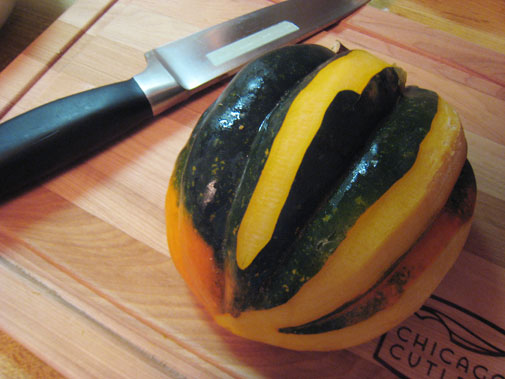 Acorn Squash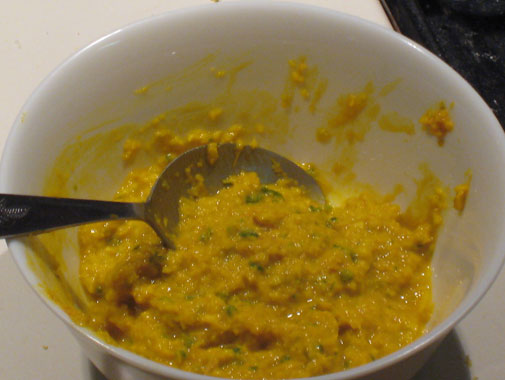 Homemade Curry Paste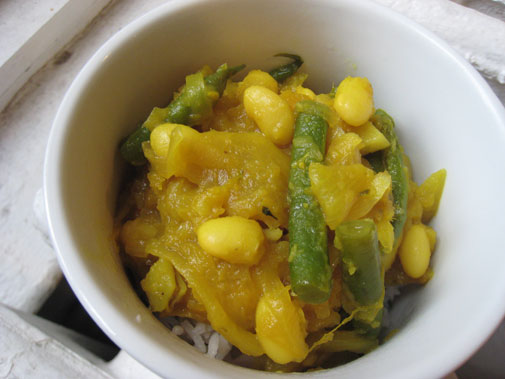 Vegetable Curry.
Acorn squash is a popular ingredient during the holiday season. Simple dish such as roasted acorn squash or stuffed acorn squash has been a steady side dish on our Thanksgiving dinner tables.
Because of acorn squash's tenderness, I decided to put it in vegetable curry, one of my favorite stews to make during fall season, to complement potatoes' startchy texture. I also cooked basmati rice, which provided some nutty flavor, to pair with the curry. The curry could have used a little more spice, such as ground fennel, cumin, and coriander seeds for stronger flavor. However, with tender and smooth acorn squash in every bite, I would settle for the mellower flavor.
To make Curry Paste:
1 peeled shallots
1 inch peeled fresh ginger
3 cloves of garlic
2 seeded (or not seeded if you prefer some extra heat) chili peppers
a few tablespoons of turmeric (add more if you prefer more pungent curry flavor)
4 tablespoons of groundnut oil, more if needed to form a paste
Blend the above ingredients together in a food processor until smooth and pasty.
To make the Curry Stew:
2 medium onions sliced into strips
1 handful of string beans chopped to 3 inches in length
2 medium potatoes, cubed
1-1/2 cup of cooked great northern beans, or any types of legume you prefer
4 bay leaves
chicken broth or water
Cook the curry paste in a pan until the smell of curry comes out.
Saute onions first, make sure to stir occasionally to avoid burnt onions. Once the onions are soft, add the potatoes and cook for another 3 minutes until you can see potatoes turning starchy on the surface.
Add enough chicken broth or water just to cover the ingredients, then add bay leaves and turn the heat to simmer.
Simmer the curry stew for 15 to 20 minutes, until the flavor is developed thoroughly. Take out the bay leaves and add the string beans. Simmer for another 3 to 5 minutes until the beans give you a nice bite, but not too soft.
Serve the curry stew on top of fluffy basmati rice, the traditional rice for a curry dish.
What do you like in your curry stew? Let me know!