Winter squashes (a generic term for all types of squash sold in the market) are everywhere, and they are cheap and delicious. I will be experimenting with a squash recipe every week this fall (possibly in the winter too), and I'd like to share my experiences with you. I hope you will enjoy reading my culinary adventure as well as learning new recipes to cook for your friends and family.  
Carnival squash has a hint of butternut squash's earthy smell when split open. I have had the squash sitting on my kitchen counter for a week and finally decided on baking a loaf of squash bread. The recipe is similar to banana bread; combining shredded squash (mashed banana in banana bread) and an egg batter with all-purpose flour.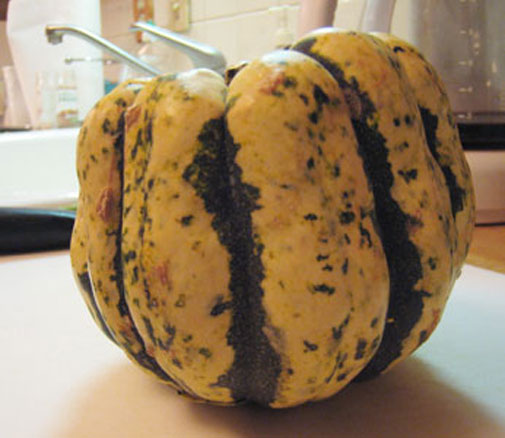 The carnival squash.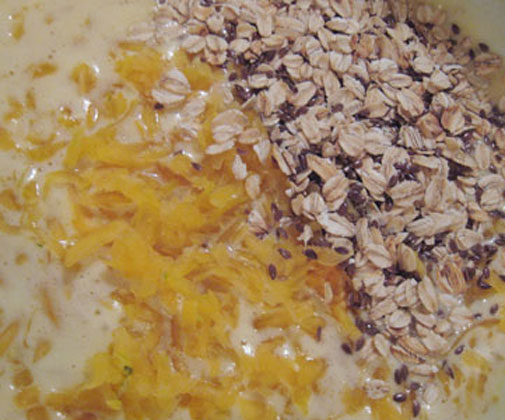 The bread batter:
Wet Ingredients:
3 cups shredded carnival squash
3 eggs beaten
1 - 1/4 cup sugar (added in after eggs are well beaten)
3/4 cup vegetable oil (added in after eggs and sugar are combined)
1/4 cup apple cider
1/4 cup toasted traditional roll oats (not instant oats)
1/8 cup toasted flaxseed
Dry ingredients:
2 - 1/4 cups all-purpose flour
2 teaspoon cinnamon
1/2 teaspoon kosher salt
1 teaspoon baking soda
1/4 teaspoon baking powder
Mix the dry ingredients with wet ingredients after they are mixed separately. You will still see a wet batter instead of a regular bread dough. Dump the batter into a loaf pan and bake the batter for 1 hour and 10 minutes, give or take, in 325-degree oven.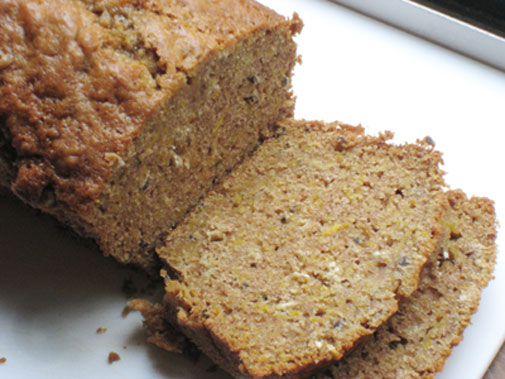 A loaf of Carnival Squash Bread.
To check if the bread is done or not, stick a tooth pick into the center of the bread and take it out, if the toothpick is clean when it comes out, then the bread is done.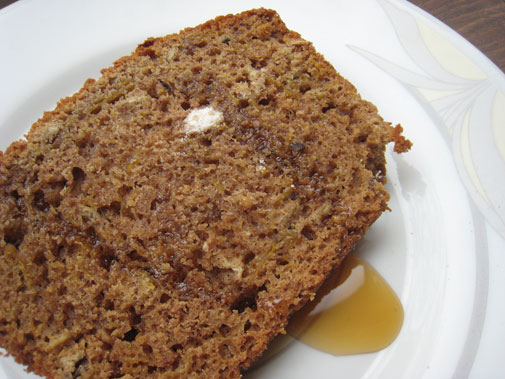 A slice of squash bread drizzled with maple syrup.

Let the loaf of bread rest for 10 to 15 minutes before slicing it. Resting will help the interior of the bread bind tighter.
Go ahead, guinea-pig another type of squash in your next loaf of homemade bread!