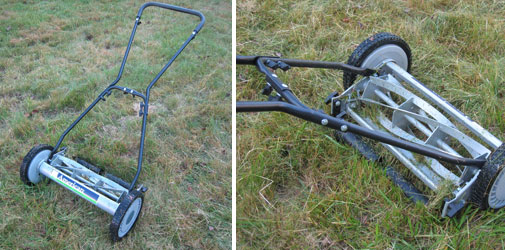 I remember getting screamed at by my football coach whenever I took a play off or did not block our opponent until a play was over either during a practice or game. Of course, there was always a consequence for not executing a play successfully; my coach would make the team spend more time practice fundamental football, such as blocking. To execute a great blocking technique, one needs to keep his feet moving forward and the opponent in front of him. Those days of endless blocking drills are well behind me, but I have found myself doing the same motion recently from mowing the lawn.
Since the gas price has skyrocketed in the last few months. I have been doing everything I can to cut down my gasoline consumption. I have stopped using my gas-run grass mower and purchased a reel mower, which requires me to push the machine (is it still a machine if it doesn't not have an engine?) forward manually.
After putting together the mower, I thought pushing a machine that weighs less than 35 lbs. would be easy. However, little did I know that pushing a reel mower over uneven (my lawn has many uneven spots) ground was as difficult as was pushing a lineman who was twice as big as I was. I kept my feet moving and barely finished mowing the front lawn. Although my first experience with reel mower was not a breeze, I sure had a great workout pushing the mower.
I highly recommend using a reel mower for your grass because you save gas and your grass gets a better "cut" as well. A gas-run mower rips the grass while a manual mower chopps the grass cleanly like scissors cutting through a sheet of paper. Also, reel mower produces little sound, which reduces noise in the neighborhood. (I am not a big fan of hearing a mower roaring in the morning or later in the afternoon.) Last but not least, you get a great workout for pushing a reel mower.