Every Wednesday, The Sweaty Guinea Pig will feature a fresh individual who will share his or her thoughts and experiences on fitness and healthy living.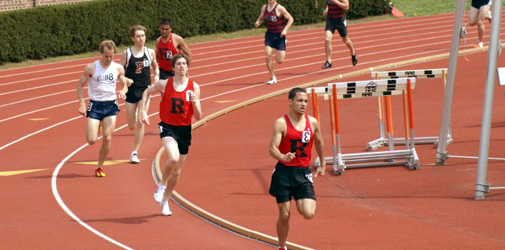 Michael is the second runner with a red jersey on.
Name: Michael Snihur
Age: 22
Location: New Brunswick, NJ
Occupation: Student
What is your current routine? How many days do you dedicate to exercising every week?
I work out everyday. However, I'm recovering from a stress fracture. I currently do pool running workout every Tuesday, Thursday, and Saturday. I do stationary biking for 30-45 minutes on Monday, Wednesday, Friday, and Sunday. I try to simulate my track workout routine that I was doing before getting stress fracture. I also do strength training on Monday and Wednesday; mainly focus on core, legs, and arms.
How did you come up with your current routine?
This routine is from Rutgers Cross-country and Track. I try to squeeze in as many workout sessions as possible between classes. I usually log in 60 to 70 miles of running every week.
What are your short term (within 6 weeks) and long term (3 months and beyond) goals?
My short term goals are to regain my cardio fitness and become healthy enough to run again. In the long run, I'd like to get back in top shape. I want to run a marathon eventually.
What are other types of training that you'd like to try?
I would really like to try plyometrics. I have also wanted to try yoga to increase my flexibility and have a better sense of body control.
What is your favorite post-workout meal?
Chicken pasta with vegetables, and a glass of chocolate milk to wash it down. This meal has everything I need to help me recover from a workout.
What is your ideal "cheat" meal or favorite guilty indulgence?
Absolutely has to be a Fat Sandwich (cheesesteak, chicken tenders, mozzarella sticks, French fries, lettuce, tomato on a sub roll). I have been trying to wane myself off of it. I've gotten myself down to only having it the night after a race.
Any advice or words of encouragement for other Sweaty Guinea Pig readers?
Make your easy days easy and hard days hard. Rest is as important as the workout.