Every Wednesday, The Sweaty Guinea Pig will feature a fresh individual who will share his or her thoughts and experiences on fitness and healthy living.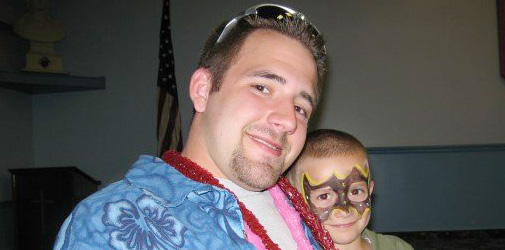 Name: David Aubrey
Age: 22
Location: Edison, New Jersey
Occupation: Legal Assistant
What is your current routine? How many days do you dedicate to exercising every week?
Currently I work out about 4 days a week; this is mainly made up of weight training with cardio routine done twice week. It's very hard to get motivated to run sometimes, but with warmer weather in spring, I'll be able to get out more.
How did you come up with your current routine?
The current routine is a variation of an old Temple University Strength and Conditioning workout, which was used by their football team. My workout partners and I have tweaked a few exercises here and there to accommodate the equipment that are available. We have a pretty kick ass work out now.
What are your short term (within 6 weeks) and long term (3 months and beyond) goals?
Short term goal - summer's coming up; no one wants to look like fat on the beach. I want to look good for the summer. In the long run, I want to get the PT award when I enter the police academy. I need to be the best in every aspect of physical training. I've got some work ahead of me, btu that's my goal.
What are other types of training that you'd like to try?
At some point I would like to try some sort of Mixed Martial Arts training. Not just so that I can inflict pain on people in many ways, which is pretty cool, but because MMA fighters have such a great conditioning regimen as far as strength and conditioning.

What is your favorite post-workout meal?
Anything edible. When I come home from the gym I'm usually starving, so any kind of food is good food. I try to keep it healthy and I always have my protein shake. But to be honest, sometimes nothing hits the spot like a little Wendy's…I never said I was a health freak.
What is your ideal "cheat" meal or favorite guilty indulgence?
Ice Cream, if its there…I eat it. I know I shouldn't but I do because it's just way too good to pass up. Especially if it's in the form of some huge sundae, like a Reese's peanut butter cup sundae from Friendly's perhaps.
Any advice or words of encouragement for other Sweaty Guinea Pig readers?
Set goals and work towards them, and adjust things along the way to ensure that you reach your goals. Also, work out with some friends who can support you but also push you at the same time. I workout with a great group of friends. Working out with them gives me the incentive to keep going back week after week to better myself and challenge them. You could also take the personal trainer route…I hear this guy Reggie does a pretty good job. (And no he did not offer me any sort of payment to put that in, I did it entirely on my own.)