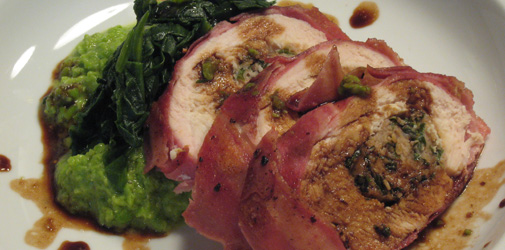 Ingredients:

1 slice chicken breast
1 link of turkey sausage
1 palmful of chopped parsley
several pinch of fresh thyme leaves, depends on your palate preference
5 slices of turkey bacon, depends on the size of the chicken breast
a handful of chopped spinach
1 cup of sweet peas
1 tbsp of sesame seeds
To Make the Stuffing:
Simply stir turkey sausage meat (taken out of the sausage casing) with chopped parsley, fresh thyme leaves, and sesame seeds.
Cooking Direction:
Put the stuffing in the middle of the chicken breast, then roll up the breast with stuffing inside. Season a piece of tin foil with extra virgin olive oil, salt, and pepper. Line up the turkey bacons on the seasoned tin foil, then place the chicken breast roll-up on the turkey bacon. Roll up the tin foil and twist both sides of the tin foil tight. Place the roll-up chicken breast into a pot of hot water for poaching 25 minutes.
25 minutes later, place the roll up into the refrigerator for 30 minutes. After 30 minutes, take the tin foil off and pan fry the chicken breast roll up. Pan fry the roll up until turkey bacon is crispy.
Finally, slice chicken in an angle to show off the stuffing. I also puréed some sweet peas and place the purée with choppd spinach in the dish.
Fine dining - healthy and full of flavor!