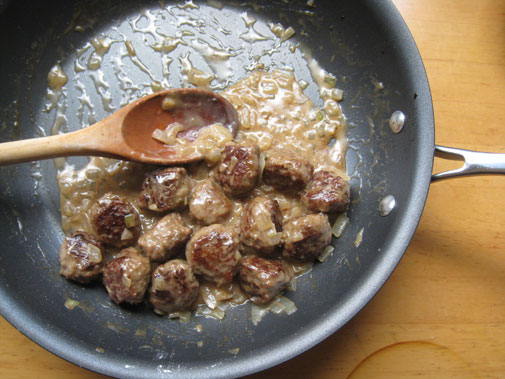 Table is set, candles are lit, wine is poured, and you look incredible…but that's not enough! Surprise her with a brilliant hors d'œuvre while she waits for your delicious risotto. Serving a hearty hors d'œuvre shows your attentiveness to details. Swedish meatballs are perfect for hors d'œuvre because of its one-bite size and superb flavor and texture. Best of all…they take less than 30 minutes to prepare! Come on…get excited!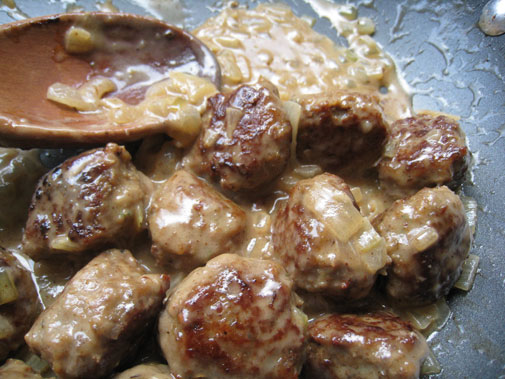 Ingredients:
1/2 lb. of any ground meat, you can even combine few types of ground meat
1 egg yolk
1/2 cup bread crumbs, from stale bread, or 1/2 cup crushed water crackers
1/3 cup whole milk, organic preferably
1 medium onions, finely chopped
2 teaspoon thyme leaves, freshly chopped
2 teaspoon rosemary, freshly chopped
2 teaspoon paprika
salt and pepper
1 cup chicken stock, homemade preferably
1/4 cup heavy cream
2 tablespoon clarified butter, and do take the time to make it for the great flavor
1 tablespoon all-purpose flour
Instructions:
Soak the bread crumbs (or water crackers) in milk for 3 minutes, and then add the mixture with thyme, rosemary, paprika, few good pinches of salt and pepper, and egg yolk to ground meat. Use your hands to combine all the ingredients by massaging them together.
Make meatballs with your hands or an ice cream scooper. The size of a meatball should be about 1 inch in diameter.
Melt 1 tablespoon clarified butter on medium heat and spread your meatballs around the skillet. Cook the meatballs until they are well-browned on the outside.
Transfer the meatballs to a bowl and cover with tin foil to keep them warm. Add 1 more tablespoon of clarified butter and chopped onions to the skillet, and cook until the onions are softened. Sprinkle flour into the skillet and mix it with onions, for about 30 seconds until the skillet has turned dried. Pour in the stock and bring it to boil, and then turn down the heat and let it reduce half before adding cream.
Once the stock is reduced, add cream and stir it in thoroughly. You should see the sauce will become light brown, like gravy.
Add meatballs back to the skillet and cook for 30 seconds. Coat each meatball with sauce by tossing or flipping them around. Serve them warm on a small plate or bowl.
There you have it…amazing Swedish meatballs. While she nibbles on them, you can concentrate on making your risotto (but still talk to her, assuming you can take it over from here.).