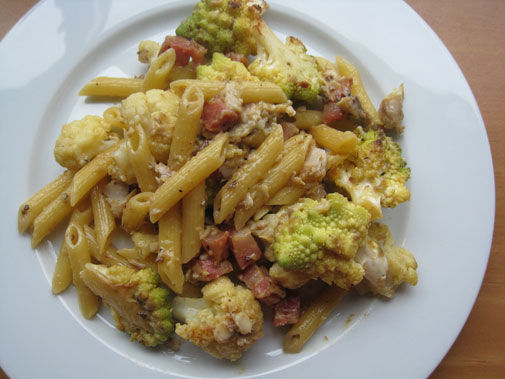 When I make pasta, I prefer making pasta sauce from scratch. However, tomato sauce takes a little patience to make. Tomato juice needs to be cooked down to sticky consistency if using canned tomatoes. If using fresh tomatoes, cooking time will double in order to extract the flavor. But if you need a quick pasta dish with delicious sauce…look no further, carbonara (yes…it's on the fattier side) is the choice.
Carbonara is an affordable dish that you can make on any given night. Basic ingredients are eggs, pancetta (guanciale if you can get your hands on that ingredient!),  heavy cream (I will be testing other dairy products like half-&-half, mascarpone cheese, and creme fraiche), and Parmesan or Pecorino cheese. Although you may be scared of the large amount of fat added to this dish, you do not have to eat a lot to feel full. Therefore, by eating a moderate proportion of this wonderful pasta dish will leave you satisfied but not guilty.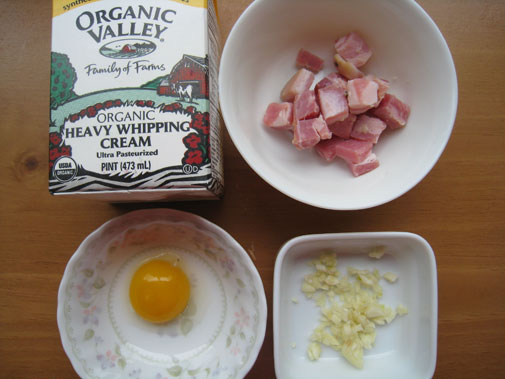 The basics - I added garlic for more flavor.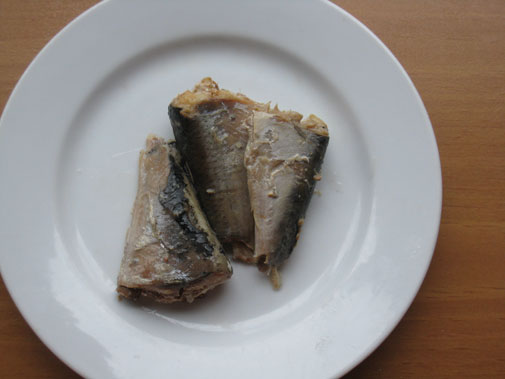 Canned sardine fillet. This ingredient is optional, especially for those of you who don't like seafood.
Ingredients: 
1 egg yolk
1/4 cup of heavy cream (go with half-&-half if you are really scared of the fat)
2 cloves of minced garlic
1 handful of cubed pancetta or bacon
1 handful of grate Parmasen or Pecorino cheese
1 handful of roasted cauliflower
1 serving of penne (or your favorite type of Italian noodles)
1/3 cup olive oil
sardin fillet (optional)
Instructions:
Cook the noodles as instructed on the package.
Saute panchett in a heavy sauce pan until fat is rendered out. Add garlic and roasted cauliflower and cook for another 2 minutes, then lower or turn off the heat for few minutes.
In a mixing bowl, whisk an egg yolk with heavy cream and half of the cheese.
Turn the heat back on and add cooked pasta. Pour 1 ladle pasta water into the sauce pan and cook until water is half evaporated.
Very critical - turn off the heat and pour in the egg mixture and stir quickly. Don't stop stirring until you see silky texture forming in the pan. If the pan is too hot, the egg will scramble. And it will not be "good eats".
Serve the pasta dish with the remaining grated cheese.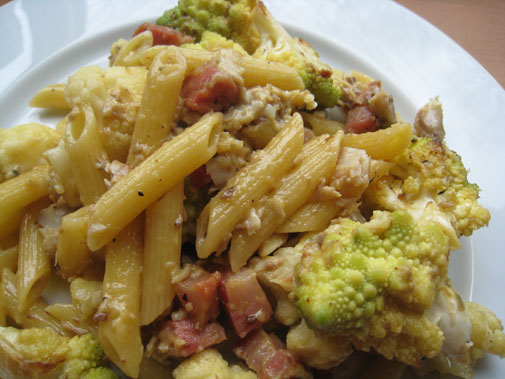 Like any other pasta sauce, carbonara can be served with any ingredients that you can find in the market. Some of my favorite ingredients are courgette, celery roots, spinach, mushrooms, and bell peppers. Go on, use your imagination and perfect this quick-fix pasta dish!