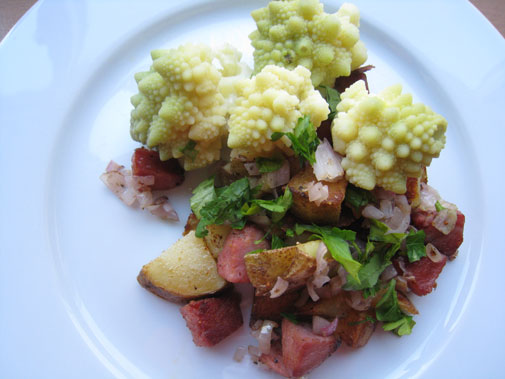 Sunday brunch is one of my favorite meals of the week. I enjoy going out to eat Sunday brunch with my friends and hold interesting conversation over a plateful of hearty food.
Since my friends and I had not made plan to go out for brunch this morning, I stayed home and made myself a delicious meal with few of my favorite brunch food.
I am a big fan of home fries; their crispy surface and soft interior give every bite a nice blend of texture. Making home fries does not require any advance culinary skills; simply boil cubed, or sliced, baking potatoes (russet or yukon) until fork tender and tranfser them into a heavy skillet with oil thinly coated. Press the cooked potatoes with a spatula frequently to create nice golden crust and flip the potatoes after 4 to 5 minute, and then press the potatoes for another 4 to 5 minutes. Home fries can be served alone or with sausages, bell peppers, onions, shallots, etc.
Romanesco is in season. Its texture is exactly the same as cauliflower (I really can't distinguish the subtle difference). I used stove top steammer, which I will teach you how to make later, and steamed the florets for 5 to 7 minutes. Romanesco is crunchy, and tastes beatifully with tiny bit of melted butter. Romanesco has abundant vitamin C, which is essential to prevent cold during the colder months.
What's your favorite brunch food?