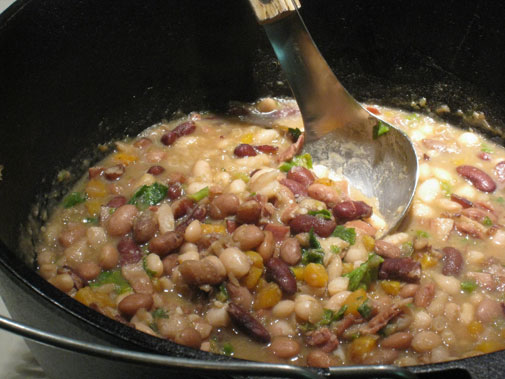 It was raining and windy outside. I was not in the mood to make the trip to supermarket and gather ingredients for dinner. Therefore, I went into my pantry to find ingredients that could be used to make a healthy and hearty meal.
I found some dried beans: kidney, pinto, and great northern. These three beans are tasty on their own, but combining them in a stew can enhance overall flavor and texture. Pinto beans provide nutty flavor. Kidney beans provide grainy texture. Last but not least, great northern beans provide soft and smooth bite (hence, people use it for making white bean dips).
To cook the beans, you can either soak them overnight or you can cook them raw; the beans will be softened regardless after 2 hours of simmering (you can do many things in those two hours, so don't be discouraged). To flavor the stew, I use aromatic vegetables (carrots, celery, and onions), smoked bacon, and dried herbs (anything goes). This is another "dump-it-in" meal that anyone can do a great job.
In addition, I bought a link of kielbasa, Polish sausage, the other day. I sliced a portion of the sausage and sauteed them for 5 minutes, until brown on the outside, and served them on top of "rice and beans". Hey…you have worked hard to stay in shape…so live up and eat some sausages!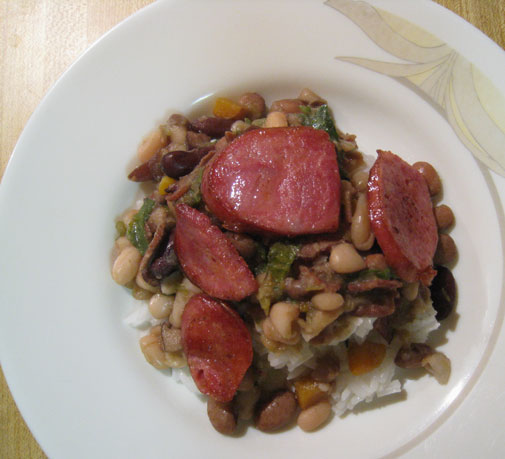 What's in your pantry? Having troubles using your ingredients? Guinea pig is here to help you create exciting dish without breaking your bank.