Finally…the final swim meet of 2008 arrived. The meet took place at Rutgers University, where I have trained myself 4 to 5 times a week since summer. Competing in my home turf gave me some confidence because I was familiar with the surroundings and had no problem managing my time going from one event to the next one.The Rutgers swim meet was a two-day event, and over 15 U.S. Masters Swim Teams (1 team came from Arizona!) ompeted.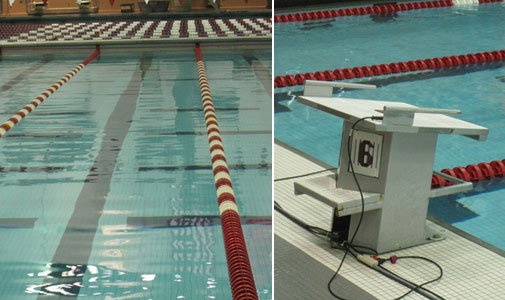 Where I have spent 6 to 8 hours every week honing my strokes and building endurance. And I usually swim in Lane-6. Was I ready for the biggest meet of the year? We shall find out…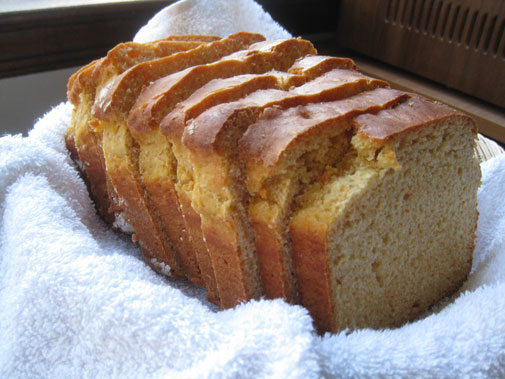 I served a loaf of sweet potato bread to my teammates, who stayed over my house for the weekend, for breakfast before the first day of the meet.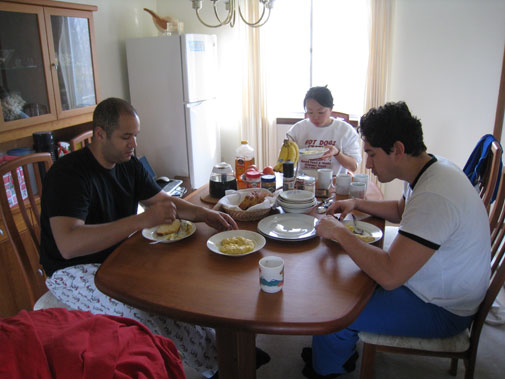 Breakfast menu: sweet potato bread, creamy grits, fantastic scrambled eggs, apples and bananas, and homemade cashew butter. From left to right: Joel (coach), Sayaka, and JJ (coach)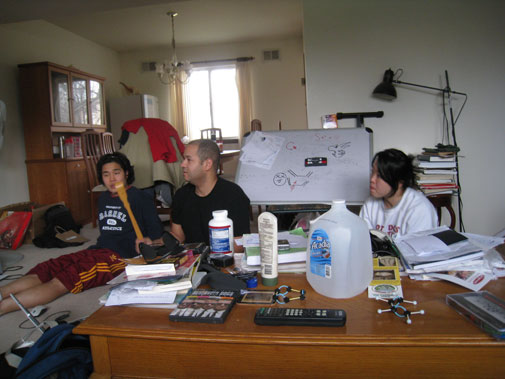 Relaxation…watching some TV and chatting.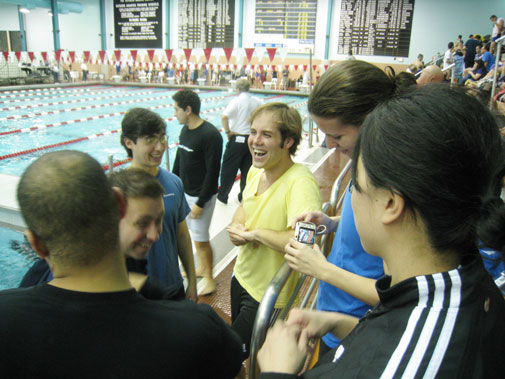 Bearcats (team mascot) were sharing some laughs before jumping into the pool.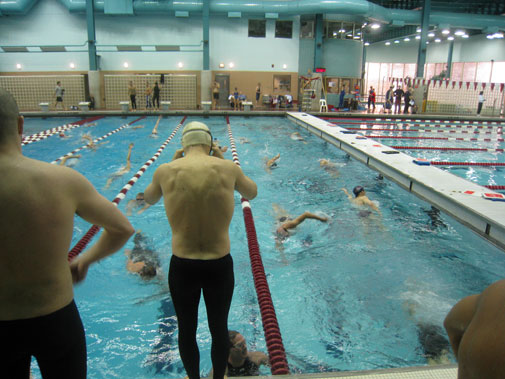 Bearcats warming up in the first lane. Each one of us swam 4 to 6 hundred yards.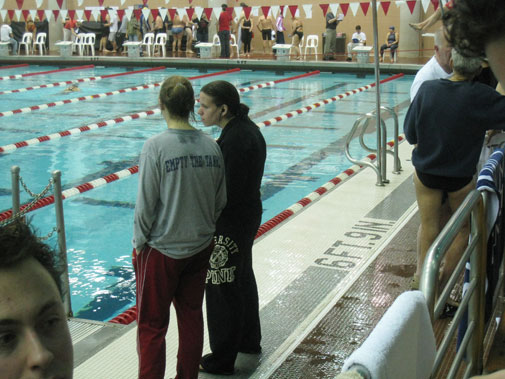 Hanna, left, and Chrissy kept each other company between each event. Both of them can out-swim me easily.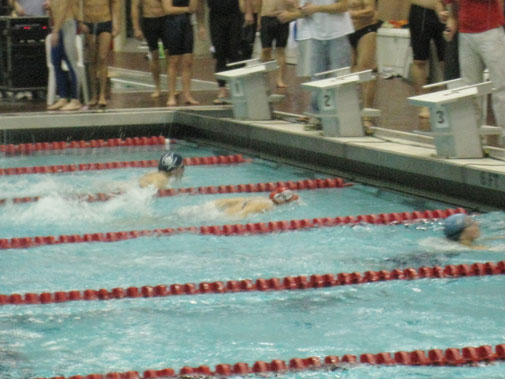 Chrissy (lane 2) swam her butterfly event. She is our butterfly specialist and scored many points for us by placing in the top 8 of her age group.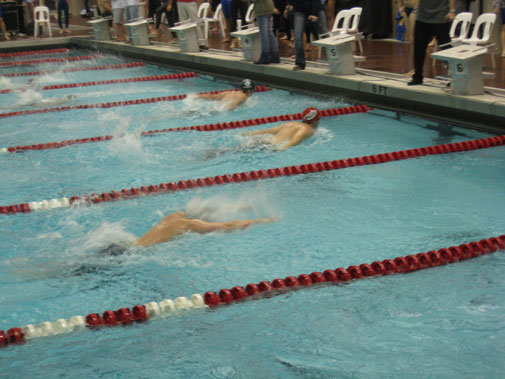 Dennis (lane 5) and John (lane 7) also swam very well. Both of them scored some points to put us in contention for "top team performance".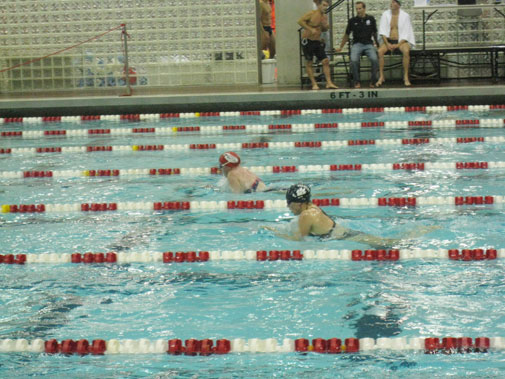 Hanna (blue cap), who has amazing breaststroke, hung tough and won second place of her heat in 100-Meter IM.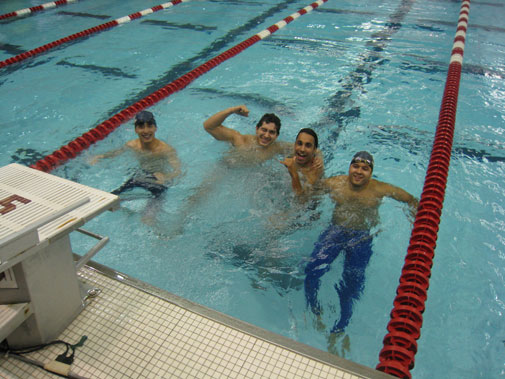 Our first relay team was outstanding; they won second place in 4×50-Meter Freestyle Relay.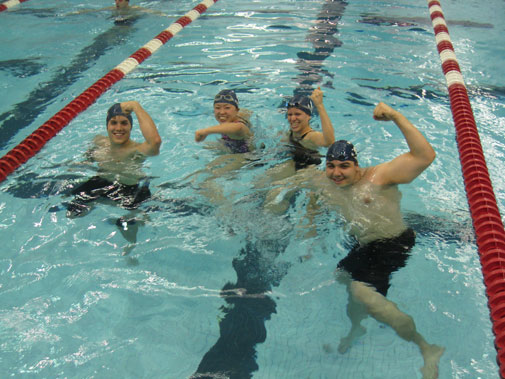 Our second relay team's performance was just as splendid as the first team. They broke the team record for Mix-team 4×50-Meter Freestyle Relay.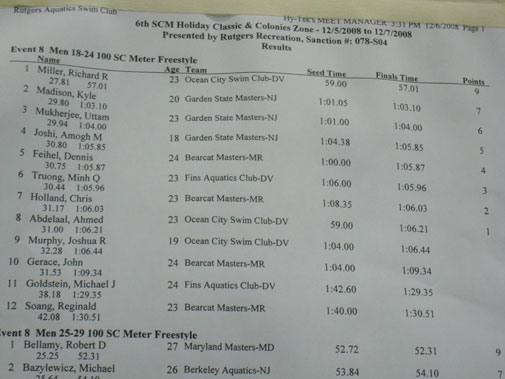 As for me…I improved my 100-Meter Freestyle by shedding more than 10 seconds since the last meet. But, I still have a lot of room for improvement. I placed 12th in my age group.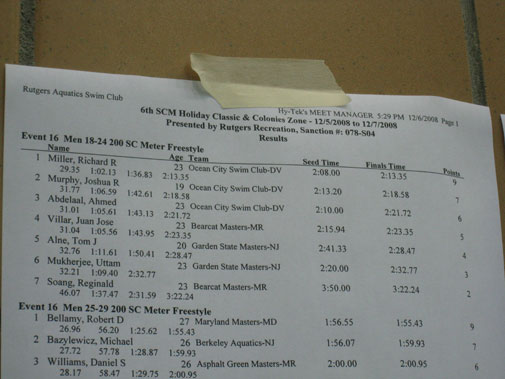 So far, 200-Meter Freestyle has been my best event; I shed 27 seconds since the last meet. I placed 7th in my age group, and earned 2 points by default.
Stay tuned for day-2 of the swim meet…