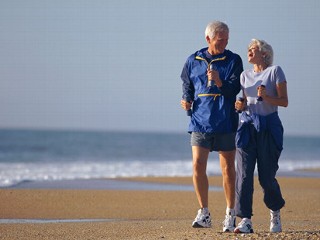 If you ever blame your age as one of the factors for losing athleticism, I don't blame you; I do the same. However, we can fight against aging if we practice proper techniques and exercise consistently. Many older swimmers from U.S. Masters Swim program have shaved their time with consistent training and great coaching.
I have always had sore knees if I overexercise. Knowing sore knees can affect my performance, here's a list of "recovery exercise" that I do frequently to minimize pain.
Brisk walk; with arms swinging, stress is distributed evenly throughout the body
Body weight squat; with proper rhythm, 3 counts going down and coming back up.
Military march; picking your feet up until yours knees are bent 90-degree before stepping forward.
Knee hugs; tuck the knees in to your chest and relax, repeat several times.
Backward high kicks; with arms supporting your upper body and knees are down on the ground, kick (or extend) one of your legs back until it is straight, then do the same with the other leg.
With a thoroughly designed routine, we can all exercise without pain. Join The Sweaty Guinea Pig, say no to aging!